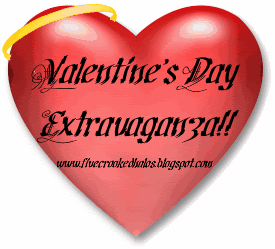 So, I am a follower of Mama M.'s blog. I like reading her posts and I like her attitude! Anyway this week is Valentine's Day Extravaganza week. I was supposed to post this yesterday (Sunday), but we were gone pretty much all day and I wasn't able to.
Sunday's theme was the story of how you met the love of your life...or, if you haven't yet met the love of your life tell me how you met your best friend!
Well, Thomas and I went to high school together. We had been friends for a year or two before he asked me out. He asked me out by writing me a note when we were in 12th grade! (I know, how old was he!! lol) After he gave me the note I didn't see him at school for a couple of weeks. (Then again I hardly ever saw him to begin with because he was always skipping school.) I didn't answer him right away because he had gone out with my best friend before me, but I think it was a few years before he asked me out. I hadn't ever been asked out by my best friend's ex before, but I had always heard on TV and movies that dating your best friend's ex was a BIG no-no!! lol At the end of the school year at prom he asked me out again and I said yes.
Now we are happily married and have one handsome son together. I'm glad I chose him over her because he stuck around and she didn't! She showed her true colors when I was pregnant, but that's a story for another day!