Well hello there October! I've been waiting for you all summer! :D
I don't like summer very much (even when I'm not pregnant!) Here, in the south, summers are miserable! With temps in the 90-100's and with humidity more than 50% summers here are hot and sticky! Being prego all summer in the south is NOT any fun!
Anyway, I LOVE fall!! As I posted in another post! I also love that it's cooling off! Although, when the seasons change the weather here in TN gets kina crazy! lol You never know what it's going to be. For instance, Saturday night the low was in the 30's all weekend the highs have been in the 60's and by mid-week the highs are going to be back in the 80's! See what I mean! lol Oh I don't mind just glad that the temps aren't in the 100's anymore.
On another note, today I am 33 weeks prego! :D :D Not much longer! I am SOOO ready to get Sophia out of me!! I;m so uncomfortable and this heartburn is driving me CRAZY!
A little PSA: we all know that October is National Breast Cancer Awareness Month.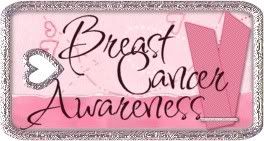 So, remember to do your self breast exams.

I think I'm going to turn my blog pink for the month of October! :D
Have a great day!